The company MedicaTour Ltd. at SIW – 2018 in Kranjska Gora, Slovenia
From 5 till 11 of June 2018 there was held SIW – 2018, another event organized by the Slovenian Touristic Board. The company MedicaTour participated in this event not the first time.
"I love Slovenia and I always visit this country with pleasure. An ancient Slovenian legend says that when the world was created, each country received something big: one country – mountains, another – the sea, the third – boundless forests, and Slovenia received a handful of love. Love had incredible power – it bound the sea and mountains, forests and waters, fields and vineyards, the mysteries of the underworld and the light of the heavens – so all the beauties of Slovenia touched each other", said Tatyana Sokolov, the Founder and CEO of MedicaTour Ltd., one of the leading companies of medical tourism and promotion of clinics, resorts ans SPA hotels.
At 8 of June at the Kranjska Gora ski resort a workshop was held with representatives of Slovenian thermal spas, spa hotels and travel agencies of various regions.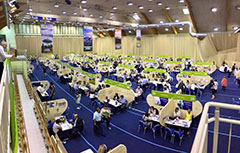 "We have held more than 20 meetings with Slovenian partners and are aimed at further development of cooperation with Slovenia, as it is here where the famous Rogaška Slatina resort with unique Donat water is situated, recommended for treatment of liver, gastrointestinal tract, diabetes, obesity, and also many thermal resorts for the treatment of locomotor system. Many resorts in Slovenia are interested in participating in MedTravelExpo – 2018, which will be held in Moscow from 2 to 5 December 2018." – said Tatyana Sokolov.
Workshop as always was organized at the highest level. After the event, a tour of Slovenia took place, where the most beautiful places and sights of the country were shown.
"I fell in love with this country even more and it's not by chance because the root of the name of the country is love.",says Tatyana Sokolov.
Website of MedicaTour Ltd.: http://medica-tour.com/
---